Our complete solution
Our innovative software provides a complete solution for ticketing and e-commerce. This also includes our multi-layered shop system with a wide range of functions. Let us give you an insight into some of our helpful features and tools that will support your successful performance and online presence. This is only a selection that reflects a part of the many possibilities.
Artwork & shop
According to the concept "your shop, your artwork" we offer you the possibility to design your shop according to your own creative ideas.
Your own design & URL
In addition to individual colours, logos, icons and texts, your personal design also includes your own URL. And there is so much more individual customization that can be done.
Individual ticket layouts
With our ticket layout editor, color tickets (including the back side of the ticket) can be designed according to your needs. This also applies to print@home (p@h) tickets.
Products & merchandise items
In addition to tickets, you can also offer products, bundles and merchandise items in your shop. A drop-down menu allows your customers to choose from different sizes and variants. Products can also be sold in a bundles with tickets.
Gallery
For tours, a separate gallery showing pictures and YouTube videos can be set up. Furthermore, you can also integrate a sponsor gallery with logos of partners as well as a playlist (using Spotify or Deezer) on the right side of the artist/tour page.
Menu & teaser
The pages can contain several menus, teasers, banners and a wallpaper (as picture or video). For shops selling sporting events, the match view and teaser are particularly interesting.
Informational texts
Depending on the shop and page, different informational texts – such as special booking instructions or a biography of the artist – can be integrated. Such texts as well as artist rating are relevant for search engines (SEO).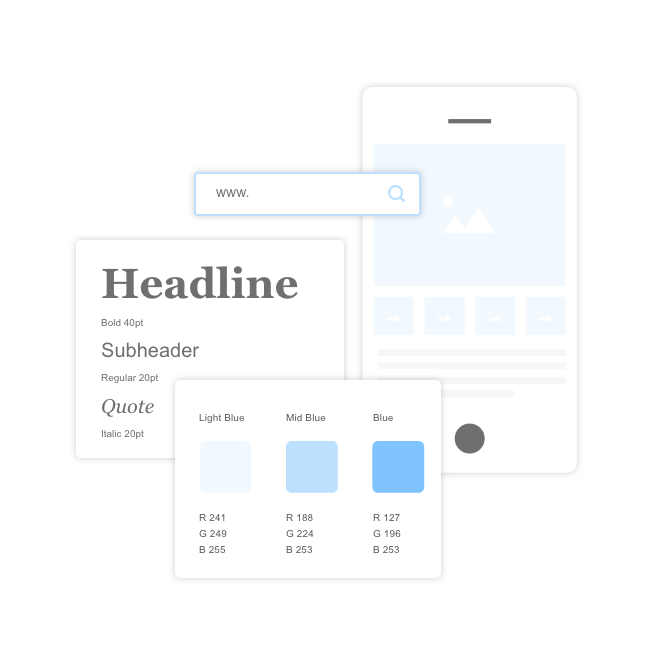 Display
The following features and tools outline your possibilities of designing the look of your shop.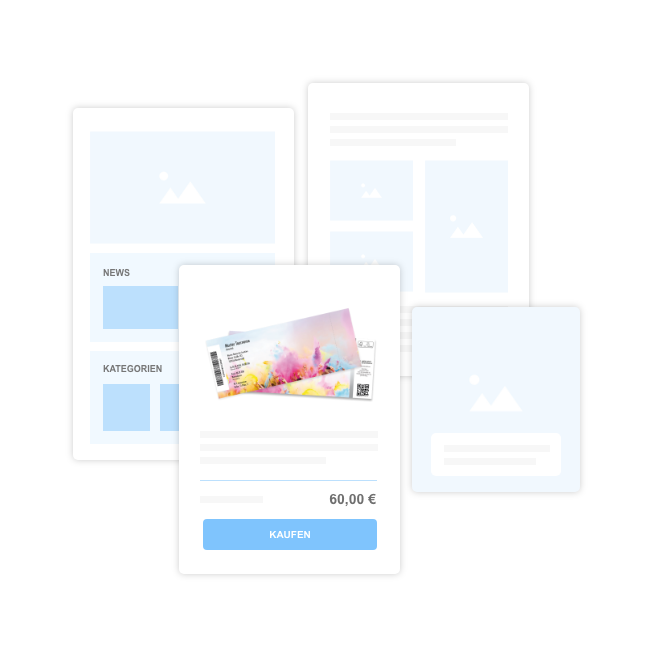 Portals & pages
In addition to the homepage, your shop can consist of artist, event and product pages as well as personalized content and category pages (e.g. event calendar, news, event history) and the booking confirmation page.
Partner- & guest shops
Partner and guest shops can be presented in a different design, but are completely controlled by your existing shop backend. Content and ticket layouts may be used and designed differently from the main shop. Individual reports are also possible on request.
Microsites
Microsites facilitate the building of personalized landing pages – e.g. for online marketing campaigns – and the integration of elements such as image galleries without the need of actual programming. They can be designed completely flexible.
Customer account
Customers that have registered an account can log in and place an order without having to re-enter their personal data. Further advantages are an order overview and the download of print@home and mobile tickets.
SEO optimization
Of course, the site structure, all contents and the entire shop are optimized for search engines. Meta data can be administered directly in the system.
Language switch
As standard, your ticket and merchandising shop consists of a German and English language version. Other languages can be implemented on request.
Artists & product suggestions
Similar products or artists can be displayed either randomly or using predefined parameters. These suggestions offer an incentive to buy and provide better navigation.
Selling from your own shop
Pricing, sales and shipping according to your wishes. With these features and tools, you can easily combine the available options.
Ticket formats
In addition to color tickets, we support thermal tickets, print@home (with immediate printing after instant payment), mobile tickets and season tickets (incl. pre-emptive right) as ticket formats.
Seating chart
Seats can be chosen directly in the seating chart or using the best-available seating. Furthermore, different holds can be set up for the webshop or POS client.
Payment options
Different payment methods, involving payment by credit card, advance payment, PayPal, instant bank transfer or Amazon Pay can easily be provided.
Shipping methods
You can offer different shipping methods, such as express shipping or registered mail, and optionally link them to a shopping cart value. There is also a shipping delay option that can be used if needed.
Shipping and ticket format fees
Depending on the shipping method and ticket format, you may charge additional fees. A general booking fee per ticket can also be configured.
Price categories & price options
Price categories and price options are combined in tariff groups that can be assigned to several events. Group discounts, for example, can also be offered this way.
Other sales channels
In addition to your shop you can also sell tickets via our own ticket platform online-ticket.de. With our POS software, tickets can be easily sold through your call centre or ticket agencies. The booking interface can be called up in any standard browser, no installation is needed.
Upselling 
The subsequent sale of additional options to specific groups of buyers, e.g. of free meet & greet slots or upgrades via personalized links, is also possible.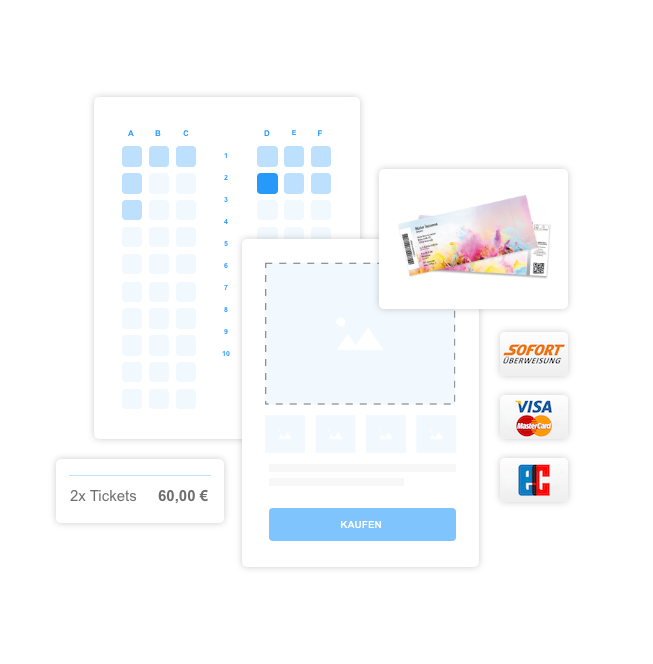 Management & customer data
Our management features keep you well informed and let you have your customer data in view at all times.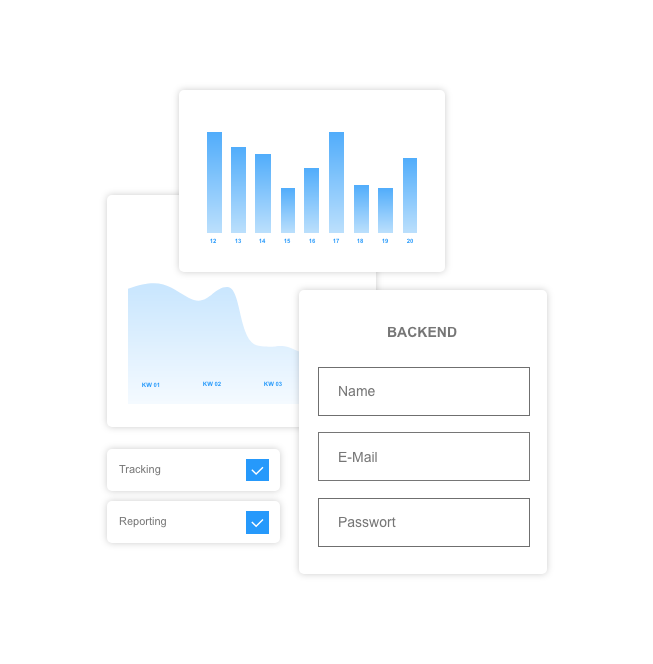 Mailing tool
To inform all participants of an event about updates or to provide them with newsletters, our mailing tool is the ideal helper. Customers can register for the newsletter by double opt-in at different places in the shop, e.g. in the checkout.
Reporting
Ticket and product sales reports as well as reports on payment methods used, survey results and affiliates can be viewed in the backend. Report subscriptions can be set up and will be sent automatically to you or to a defined e-mail distribution list.
Customer data
You have unlimited access to the customer data of your fans at all times. By collecting and evaluating relevant data, marketing measures can be carried out and processes can be optimised.
Backend features
Many other backend features such as a simple quota management, the export of barcodes or the secure sending of data to colleagues or partners additionally make your administration easier.
Affilliates & tracking
In terms of marketing we support you with affiliates and analytics tracking. All required data on the site usage and conversion of your customers are tracked via Google Analytics or Facebook Pixel.
Dashboard statistics
Your backend data dashboard provides an overview of all relevant event and stock data, e.g. low stock alerts, recent stock changes, a graphical sales chart and much more. The data output can be personalized to some extent.
Conversion
At white label you will find many conversion features and tools, which help you to convert a prospect into a buyer and to interact with your range of products.
Personalization
All content can be individually designed and personalized. Our microsites are a good example.
Different event views
Event dates within a tour or series of events can be displayed in the shop as list, map or calendar view.
Gift wrapping
You can offer your customers a practical gift wrap for their color tickets. If ordered, it will automatically be sent along with the tickets.
Cross-selling
Within the checkout process, additional products can be displayed, which might be interesting for the customer and can quickly be added to the shopping cart.
Ticket insurance
Ticket insurance can be offered to your ticket buyer. It can be booked during the purchase process or after the order has been completed.
Call-To-Action (CTA)
Following CTA principles, icons can be integrated on the product page to promote sales. For example, the 'available' icon could also be displayed as a precise number showing remaining availability.
Checkout
On our dynamic checkout page, the customer can order as a guest or with a customer account, as well as enter his personalization data and edit the shopping cart. The checkout contains an overview of all order items with seat details, sizes, pictures, etc. In addition, customers may start the checkout process via mobile reservation while on the road, but donot have to complete it immediately. They can have a link sent to them and use it to finish the order within a given time.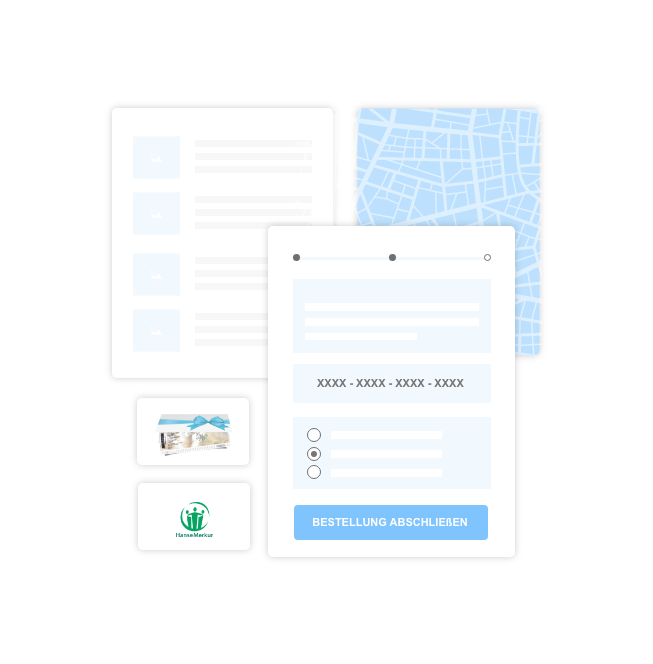 Various promotion activities
Discounts, promotion codes and gift vouchers help you create attractive offers.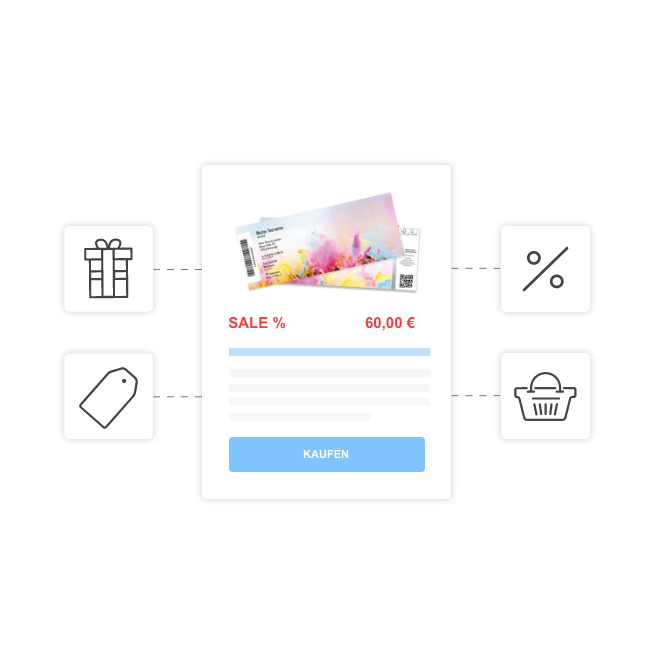 Promotional prices
The product page displays reduced prices and savings. The original price appears striked out along with the new one. The savings can be shown as a percentage.
Gift vouchers
Gift vouchers can be configured as print@home, color ticket, thermal ticket or even as plastic cards (credit card format). A personal message to the recipient can be included on the voucher.
Promotion codes
You can distribute individual codes or a general code to customers and thereby open different prices to selected groups and for a certain period, e.g. for closed pre-sales.
Banner ads
Banner ads including a link can be placed on the order comfirmation page. The descriptive text and validity period are adjustable. The banner can be tied to an order value, certain events or a location, for example.
Discount and marketing codes
A general discount code can be created that is accessible to all customers and can be redeemed either x times or only until budget y is reached. Generic or user defined codes can be created that reduce the shopping cart value by a fixed amount or percentage. Codes can also be used for free shipping, for example.
Ticket personalization
The personalization of each indiviual ticket with various attributes can be activated on event level. The data entered can be printed on the tickets, e.g. for on-site checks.
Specials
We also provide you with some special effects that make your shop unique.
Bundles
To sell products and tickets in one, there are ticket-merch-bundles, multi-bundles & ticket-print@home-bundles. Bundles can be optional or obligatory and apply per ticket or per order.
Reviews
Give your customers the opportunity to write a review. This user generated content is relevant to Google and helps to rank the shop higher within the search results.
Newsletter & event alert subscription
Keep your customers up to date with a newsletter or event alert and inform them about artists and special offers. Simply integrate the boxes in your shop.
Surveys
Create individual surveys for your buyers. This allows you to learn more about them and receive their feedback. Our voluntary surveys, which appear after completion of the order process, usually enjoy high participation.
Waiting room
In case of high demand pre-sales you can gather users in the virtual waiting room until they are able to start the booking process.
Heatmap
The heatmap report shows a picture or fast motion video of how seats in the seating chart were selling during a selected sales period.
Social media
Social media profiles can be integrated as coloured icons. Social sharings are also possible. Additionally, a Spotify playlist and other media can be integrated on the page.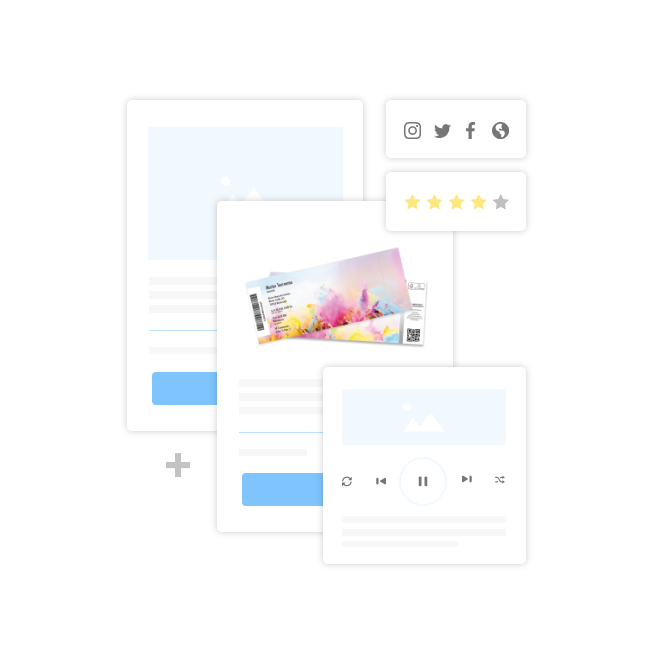 Technology
Thanks to successful cooperations combined with in-house technology we will support your shop with full power.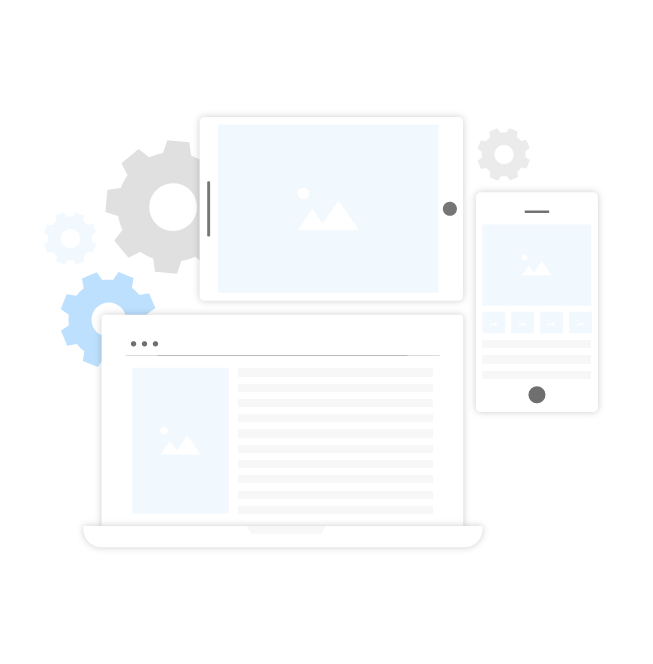 Venue services & access control
In addition to our POS client, our venue services include a cooperation with Simply-X and our very own scan app. The latter features online scanning with several devices – and we are looking forward to presenting you our beta version very soon. 
External interfaces
Feel free to use our various third-party interfaces. These include public transport tickets, payment providers, ticket insurance and an event API connecting our partner Co*Pilot to our system.
Scanning of products
Without any app, you may scan digital products – such as vouchers for merchandise that can be picked up at the venue. Simply scan with your mobile phone's camera.
Maintenance mode
The maintenance mode can be activated if your shop needs some renovation.
Responsive & mobile
There is no state-of-the-art technology without responsive design. The display adapts to the screen size – ideal for mobile devices.
Meta data
The administration of meta data for search engine optimization (title, description, keywords) for all frontend pages (artist page, product page, etc.) is easy to do.
© 2012–2023 white label eCommerce